*Please see the COVID-19 submission instructions listed below for the AKD and Honors Applications*
Sociology Honors Program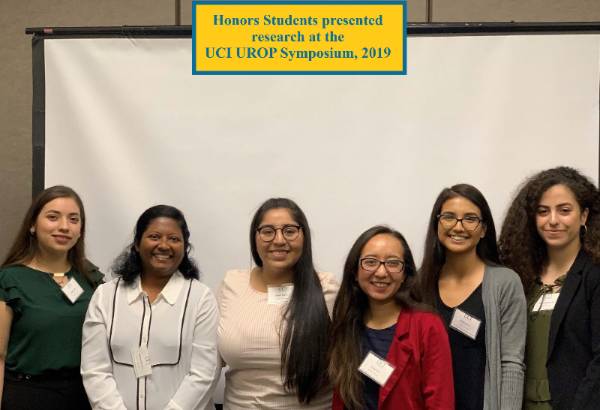 The Honors Program in Sociology is open to outstanding Sociology majors during their junior and senior year. To gain admission to the program, potential Honors students normally take Sociology courses in theory (Sociology 120), methods (Sociology 110), statistics (Sociology 10A-B-C) and at least two Sociology core courses. Students who receive an average grade of 3.5 or better in these courses are eligible for the Honors program. In addition, Honors students should have an average of 3.2 or better in all courses taken at UCI. Majors who are transfers may petition for entry into the program based on their grades from their former schools.
During their senior year, Honors Program students write a thesis, designed and carried out under faculty supervision. Projects normally entail some empirical analysis of sociological data. Students meet regularly in a two-quarter Honors seminar to design and carry out these projects, to exchange ideas, and to help analyze each other's work (Sociology H188A and H188B; satisfies Sociology major requirement C: Honors students do not have to take Sociology 180A). In addition, Honors students are required to attend between six to nine Sociology guest lectures and subsequent meetings to discuss relevant sociological issues. Upon successful completion of the program, students graduate with Honors in Sociology. To learn more about the benefits of undergrad research, please click here.
HOW TO APPLY:
Honors Program Applications are available online here and next to the undergraduate bulletin board across from SSPB 4211.
Application Deadline has been extended to August 2nd, 2021.

* COVID-19 Update:
The Sociology Department is still accepting Honors Program applications. Please submit them via email to acasado@uci.edu by August 2nd.
---
National Honors Society (AKD)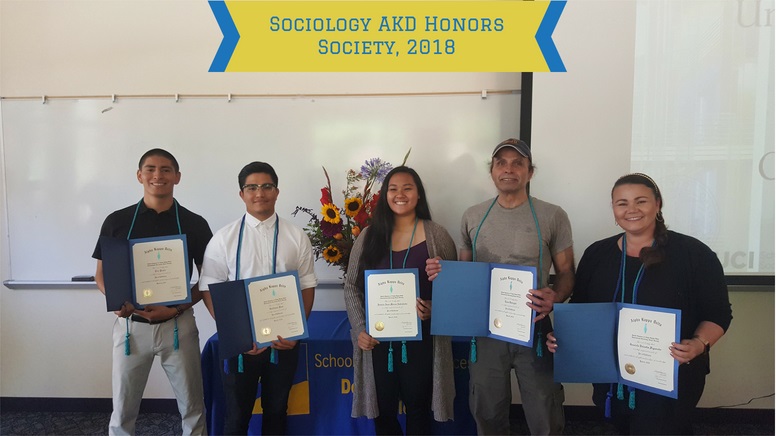 Alpha Kappa Delta is the National Honors Society for undergraduates in Sociology. AKD seeks to acknowledge and promote excellence in scholarship in the study of Sociology, the research of social problems, and such other social and intellectual activities as well as lead to improvement in the human condition. To learn more, visit AKD's website or visit their Facebook Page.
BENEFITS OF MEMBERSHIP:
-Membership is for a lifetime. There are no annual dues for members after the initial $55 payment unless one decides to remain a Voting member
-A certificate of membership and a membership card are given to all new members to recognize the honor of being a part of Alpha Kappa Delta. This also shows evidence of membership.
-Free one-year subscription to Sociological Inquiry, the official journal of Alpha Kappa Delta.
HOW TO APPLY:
To apply, please download and fill out the printable application and return to Maryann Zovak-Wieder (SSPB 4215) or Alysha Casado (SSPB 4211). Please note, the $55 fee is due when the application is submitted.
Application due date April 15th.
* COVID-19 Update:
The Sociology Department is still accepting AKD applications. Please submit them via email to acasado@uci.edu by April 15th.
---
Additional Photos